Business Opportunities of Web-Based Educational Publishing
Colleges and universities are now discovering the many benefits of educational publishing on the Internet. But is the transition worth the effort? And how are publishers responding to these opportunities? This workshop will lead participants to answer these questions and teach you how to target your readers.
Participants in this workshop will learn the details of:
Intellectual property issues:

Identifying and protecting copyrights & trademarks
Registration procedures for copyrights & trademarks

Security implications:

Sending information only to approved Internet users
Keeping cybervandals and cyberthieves out of your
systems
When, what, and how to charge for program usage:

Demos, trial licenses
Registration procedures
Billing procedures (fixed monthly charges vs. usage-based
charges)
What to charge for and what to provide free of
charge
Foreign currency
Secure payment options (FirstVirtual, DigiCash,
credit cards, etc.)

Reaching diverse markets on the Net

Minorities
Non-English speaking students

Comments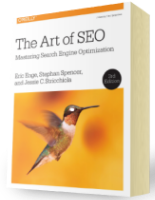 Chapter 7:
Content Marketing
From the fundamentals of link building to the nuances of natural linking patterns, virality, and authority.
Get Free Chapter